Council Rubbish Bags  were spotted  in the Upper Harbour Local Board window saying the bag proceeds will go to Environmental projects.    Question is "Why are they only available on the North Shore?".  And why is the North Shore including Kaipatiki being subsidised  when their Built and Natural Environment expenditure is only $5 thousand while Waitakere are paying $1.6 million.  And how does Kaipatiki get arguably Aucklands largest volunteer, restoration  and  environmental programmes with almost no invesment from it's local ratepayers.
It appears these bags are only for the North Shore.  When is Auckland Council going to be running a fair system across Auckland?
Investigation follows.
THE BAG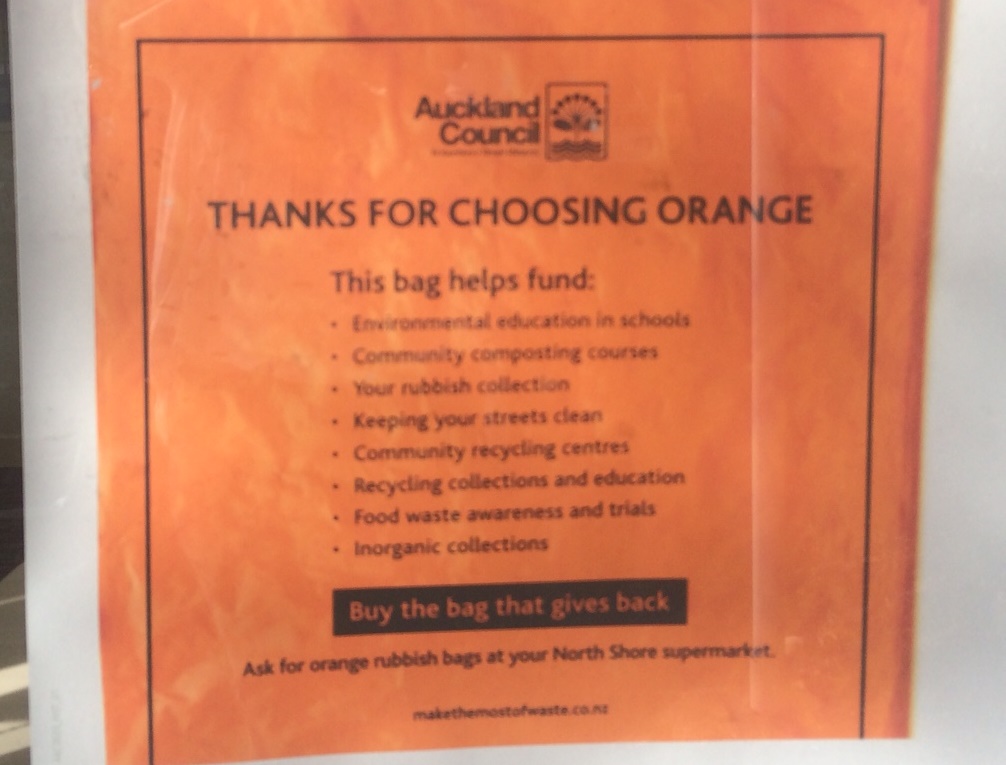 The bag reads, " Auckland Council.  Thanks for Choosing Orange. This Bag helps fund: Environmental Education in Schools, Community Composting Courses, Your Rubbish Collection. Keeping Your Streets Clear, Community Recycling Centres, Recycling Collections and Education, Food Waste Awareness and Trials, Inorganic Collection."
Ask for the orange rubbish bags at your NORTH SHORE supermarket.
WHAT's on in NORTH SHORE – environment

PLUS COUNCIL'S NORTH SHORE GOODIE BAGS

 .
Kaipatiki Local Board (Northcote, Birkenhead) is the home of the largest North Shore environmental centre. The Kaipatiki Project runs it's own nursery, multiple restoration programmes,  courses including: Beekeeping, plant propagation, sustainable home advice,  Maori Medicine, Free composting courses , guided bush walks, in-school environmental programmes, 2 x month long ecofestivals, glow worm walks, composting systems, possum trap hire.  They have a large volunteer run native nursery and native bush restoration programmes,  a North-West wildlink assistance programme offering free advice to private owners living by a stream who get home visits and planting advise ,  weeding assistance and free native plants. (Offer now closed).
I registered at Sustainable Living  for information for Auckland Council's Environment information .   The email sent  mentioned North Shore, and Mt Eden and I had to request information about West Auckland and was sent this link.  Here is the North Shore information:
"On Auckland's North Shore the Kaipatiki Community Facilities Trust has been offering free Sustainable Living workshops on energy, waste, gardening and water, all funded by the Kaipatiki Local Board.    If you live in the Kaipatiki Local Board area and are keen to host a workshop in your home for 6 or more local households, or you would like to attend a workshop, email … Workshop hosts get a sustainable solution installed at their home for free: energy saving devices, a compost system, a garden bed or rain barrels.  And guests get a goodie bag! "
" In addition, can I take the opportunity to let you know about Auckland Council's free Eco Design Advice Service, which aims to encourage sustainable design in new homes, extensions and retrofits. ..We can make a site visit ….."
WHAT'S ON IN WAITAKERE – ENVIRONMENT:  Link  Here for the Ecomatters Programmes held in New Lynn including 5 Seminars.  Love our Lagoons. And Glen Eden Project Twin Streams for some planting days at Lucinda Place Orchard and a Lagoon planting day.  There are also some projects in New Lynn (Whau Local Board)
QUESTIONS TO COUNCIL:
Question to Council via OIA: "What revenue do the orange bags generate and what proportion will go to Environmental  Programmes? Will it go to Kaipati Centre? Will Waitakere's grey bags also  pay for their environmental programmes?  What is the Revenue for Waitakere Grey Bags currently and where does the funding currently go?"
Council Answer: " Unfortunately we are unable to provide a detailed financial breakdown of our revenue from rubbish bags sales, as this information is commercially sensitive.  This information is withheld under s2(b)(ii) and 7(2)(i) of the Act.  As mentioned above, Auckland Council funds a number of environmental initiatives, including contracting the Kaipatiki Centre to deliver some of our environment programmes.
COST COMPARISON: $5K KAIPATIKI VS. $1.6 MILLION WAITAKERE
Kaipaitiki Budget Breakdown  Built and Natural Environment:  "We plan to spend $5,000 operating expenditure (opex) on these activities in 2014/2015. The Kaipātiki Local Board recognises and appreciates the number of volunteers and community groups who currently work to provide environmental and sustainability programmes and on-going regular, sustainable management of the Kaipātiki environment. The local board continues to support these groups where possible through discretionary budgets. The board is also promoting a rational approach to mangrove management where they are encroaching on natural waterways in our inner harbour beaches and will continue to support projects to monitor and remove mangrove seedlings in selected locations."
Waitakere Budget Breakdown Built and Natural Environment: "We plan to spend $1.4 million operating expenditure (opex) and $239,000 capital expenditure (capex) on these activities in 2014/2015. Our focus is on delivering the Waitākere Ranges Heritage Area work programme. The key initiatives for 2014/2015 include: • implementing existing local area plans, including a greater focus on weed control • implementing the recommendations of the Waitākere Ranges Heritage Area Monitoring Report, including those on historic heritage • scoping and developing a historic heritage plan for the local board area • working with local communities to increase education on kauri dieback and increase compliance with protective measures • project Twin Streams will be extending into new areas and developing a transition plan as it moves into its next phase • scoping opportunities for walkways in the Waitākere Ranges local board area, initially focussing on the Little Muddy Creek catchment"
COSTS OF RUBBISH BAGS
Costs of Rubbish Bags from the Council Website: Note Auckland City ones are additional to the ones they receive for free as part of there rubbish rates.
| | |
| --- | --- |
| Location | Cost (Including GST) |
| Waitākere | $2.25 |
| Franklin (sticker) | $2.20 |
| Papakura | $1.95 |
| Auckland Waiheke red bags | $3.90 |
| North Shore 60 litre bag (5 pack – $8.65) | $1.75 |
| North Shore 40 litre bag (5 pack – $7) | Not sold singly |
| Auckland CBD ( a pack containing two rubbish and three recycling bags) | $7.70 |
Author: Penny Sparks