Opinion: Author: Penny Sparks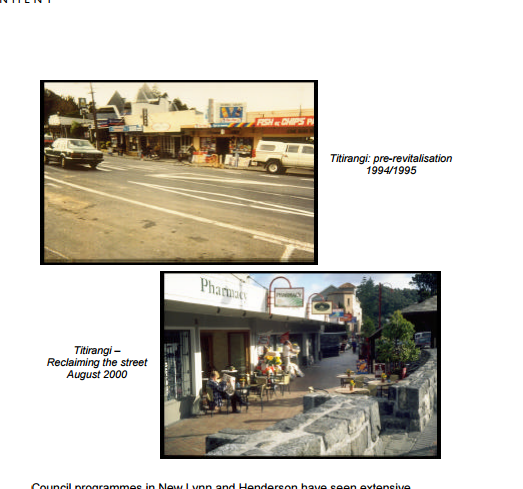 Titirangi:  Here is a pic of Titirangi in 1994.  The top picture looks almost identical to  some of Glen Eden's current shops with the similar style of architecture and a road designed for cars but this is Titirangi pre-council renovation.    Waitakere City Council invested significantly in Titirangi's streetscaping and by 2002 the town looked quite different with  stone walls, an outdoor plaza designed for community interaction, street trees,   new iron Sign posts, and brick road crossings .  This Community Gateway gives a clear signal to families who may want to buy or live in the area that his is a great place to live , shop and send your kids to school. The council investment also acts as a catalyst for private investment.  The community now is a high decile living environment on the edge of the Waitakere Ranges.  The new $19 million  Lopdell House arts precinct completes the picture.
Glen Eden : By contrast,  Glen Eden streetscaping was named as a top priority for Auckland Council in Waitakere's last  Long Term Plan. –  twice there have been architectural plans drafted,  and repeatedly the budgets have been cut.  Glen Eden's improvements to individual shops are largely by private investors including New Fresh Choice shopping area.  Glen Eden did not receive the Local Board's streetscaping /economic capex budget  for street upgrades and village square etc.   .
Oratia: Oratia has also had a landscape masterplan for streetscaping with a town square and a gathering  space for community. This streetscaping was also cut from the budget.
As per the picture above the investment in streetscaping is transformational and changes the pathway for the community. It's interesting to look back and reflect on  how different the outlook for Titirangi may have been without that investment.  And does Streetscaping improve a communities social and economic outlook?   How would Glen Eden be different if it had that invesment in it's public realm.