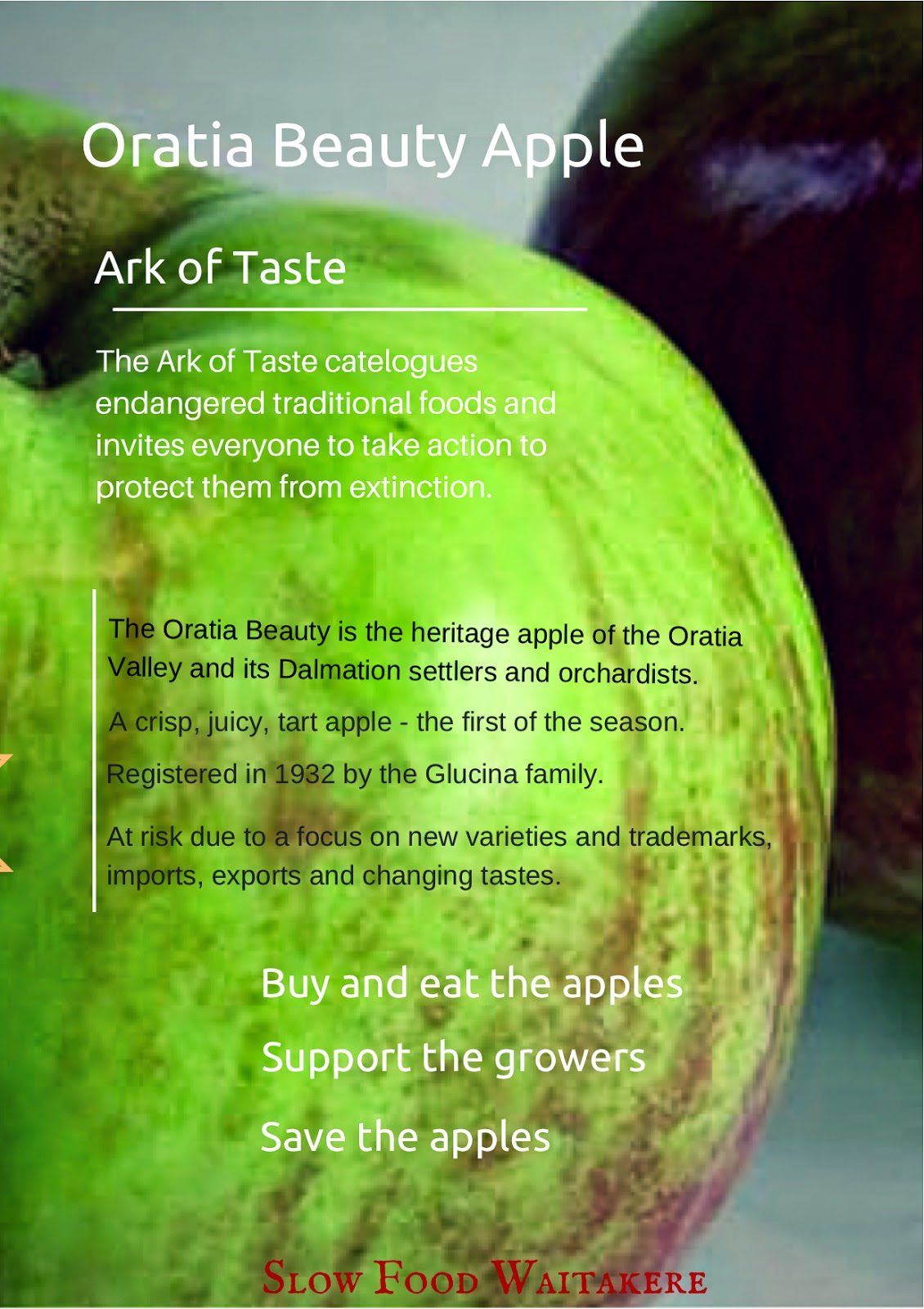 The poster above is from  Slow Food Waitakere  who have  highlighted the Oratia Beauty as an apple that deserves recognition. "The New Zealand Oratia Beauty apple is listed as an endergered heirloom fruit by the Slow Food Foundation for Biodiversity."  It has been added to the Ark of Taste catalogue where you can read it's history and why it needs support .   "The Oratia Beauty is a sport (a strain that arose from a bud mutation) of the Albany Beauty apple, which in turn was a sport of the Gravenstein. The apple was found on the orchard of Mr. Mate Glucina in Oratia, Auckland, in northern New Zealand. The Oratia Beauty was recorded as a new variety of apple with the New Zealand Institute of Horticulture in 1932. It has become a defining icon of the Oratia district. The area has a long history of orchards and vineyards that are closely tied to the Dalmatian immigrants who settled the area in the 1890s and 1900s."   "The Oratia Beauty apple is at risk of disappearing because the New Zealand apple industry is export-focused and is focused on "new" varieties of apple that can be trademarked. There is a focus of "big" orchards in Nelson (South Island) and the Hawkes Bay (eastern North Island) which leaves small growers and Auckland growers unsupported. Many of the small-scale orchardists who grew the Oratia Beauty have gone out of business. The orchards are usually family businesses and the children do not want to take them on. Furthermore, imports ensure that apples are available year round, diminishing the importance of Oratia Beauty as the earliest ripening New Zealand apple variety, and there is a new preference for sweet apples among consumers, as compared to the tart Oratia Beauty."   Full Transcript of the History of the Oratia Beauty Here.
Remember winter is the time to plant your fruit trees.  You can support your local heritage , our traditional landscapes and food diversity by  planting  your own heritage apples like our Oratia Beauty  available from Waimea Nurseries.  I will be underplanting mine with Daffodils this year which was also an important crop for Oratia.
But most importantly  support food diversity and our local heritage by shopping local and supporting local growers:  Nola, Artisans,  Dragecivich.   To support the specialists who know how to really grow a great apple.
Press Release from Slow Food Waitakere Read Here