Oratia Settlers' Hall for Hire  
The Oratia Settlers' Hall is a heritage building  built by the original Settlers' of Oratia as a community hall, which was later extended by the community.  It is the larger of the two community halls, and has timber floors, the mid section is original  tongue and groove walls , timber floors and high ceilings, a modern kitchen, seperate bar area, and good indoor/outdoor flow onto the deck.  It is a great option for  weddings, birthday parties, family and community social events, and local clubs.    Another option is to book both the Oratia Settlers Hall, and the Small Hall which has access onto the Oratia Domain Reserve.  Weddings have used the Small Hall or Domain for the ceremony and the Settlers' Hall for the Reception.
The Oratia Settlers Hall has a capacity of 150 people. Modern newly renovated kitchen facilities are available including a bar room fridge/ freezers x 2,  microwave, 1 stoves, a zip water heater, coffee cups. Trestle tables and chairs to seat 150.   Modern radiant heaters, $2 coin operated. Newly renovated bathroom facilities.   High timber ceilings and timber floors.     This hall is ideal for parties, weddings and  receptions, movies, clubs and shows.  
Rates
Casual – Hourly Rate $25  less than 50 people.
Friday Saturday Evenings   –    Bond $300   Hire $300  Security for every 50 people $125
Hall Hire :   Email  Audrey Nelson at hall@oratia.org.nz.  or Phone 889 0377
Include your Name, Number of people, Date required, Purpose of event.
FLOORPLANS
The Event above was layed out as per below floor plan for 120 in the main room plus two buffet tables, dance floor and band on stage. 2 large trestle tables were set up for kids  in the adjoining foyer with the double doors open.   Total 130 seating. Note our tables are slightly narrower than shown in Floorplan. Layout by allseated.com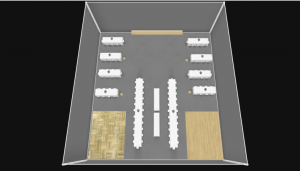 all-seated-settlers-hall-layout-for-seating-120-plus-banquet-tables-3d
all-seated-settlers-hall-layout-for-seating-120-plus-banquet-tables